1:1 Coaching
Kevin works with just 10 clients every quarter and is currently waitlisted... apply below to join the queue.
Initial Investment of $18k PIF or $7,000/mo x 3 Month Minimum
You will undergo an extensive audit and we will create a customized action plan to expedite your success.
All sessions are recorded and any resources offered are yours to keep for life.
Note: Available for both business and/or personal focuses. Details below.
To your success! 🥇
How To Book:
Tap 'Apply Today' Below

Complete the following application form.

If selected, I will respond with a link to book an introductory call.
Through The Grapevine
From creators to companies to wellness entrepreneurs... read how innovators are benefitting from my unique expertise.

Magalie Kayrouz
Viral Marketing Specialist
"Working with Kevin has been instrumental for my business and have helped us streamline our processes, cut costs, and boost sales; all in less six weeks.
His expertise not only expanded my business' success, but it has transformed my mind and shown me what 'success' actually looks like for me.
I HIGHLY recommend any business owner looking to improve their operations, profitability and ultimately live a more fulfilling life to work with Kevin."

Anton Mackey
Men's Mindset Coach
"Before working with Kevin I knew I had a limited mindset and I didn't know how to truly elevate the experience I was trying to offer my clients.
Since working with Kevin, I've been able to break free from cycles of belief that did not serve me, spark my creativity, and create new transformational offerings.
I feel I've tapped in to my business man within and Kevin's knowledge and guidance make me excited because I have someone who is where I want to be."
My Areas of Expertise
1 - SYSTEMS / AUTOMATIONS / TECHNOLOGY
Credentials:
- $500k+ From A Personal Brand in < 1 Year
- 20+ Countries Visited in 2022 (+ Income Record)
- Business Runs on 5 Hours Of Work / wk
- HubSpot Certified Systems Partner
- Fortune 500 Consultant
Areas of Focus:
- Methods For Leveraging Technology To Scale
- Platform Integrations & Systemization
- Optimizing Your Offer For Conversion
- System Creation For Business Owners
- Simplifying Your Business Profit Centers
- - Holistic Marketing Strategy & Funnel Build
- Workflow Automation (Delete, Delegate & Systemize)
2 - PERSONAL DEVELOPMENT / CYCLES OF BELIEF
Credentials:
- 50+ Documented Client Success Stories
- 25+ International Wellness Retreats
- Fortune 500 Consultant
- E-RYT 200 Yoga Teacher
- ACE Certified Trainer
Areas of Focus:
- Environmental Analysis
- Energy (Willpower) Optimization
- Building Powerful Routines (Inputs)
- Creating Personal Systems for Success
- Goal Setting, Habit Tracking & Analytics
- Limiting Belief Deconstruction
- Empowering Belief Reconstruction
- Workflow Simplification & Tech Implementation
ADDITIONAL INSIGHTS
Life & business is simple, and when paired with a customized gameplan... your unique vision will come to life.

Gina Pearson
Functional Nutrition Practitioner
"An initial leap of faith to share my expertise with the world started full of endless possibilities... but the steps to creating a tangible business were non existent.
Kevin was my greatest investment to date, and in less than a year of working with him I was able to increase my active client base by over 400%.
Additionally, I have consistently increased my monthly revenue by 10-20% each month… including a new record month of 59k. Kevin is a blessing & no-brainer."

Sam Davis
Online FitPro Strategist
"When I started working with Kevin I was procrastinating and had subconscious beliefs that prevented my from launching my life's work in an evergreen course.
After just one strategy session, Kevin was able to uncover the root cause of my belief and made it tangible for me so I could process it effectively.
After giving me me strict guideline to create and launch the course before the end of that month... and I got my first sale within 30 minutes of launching."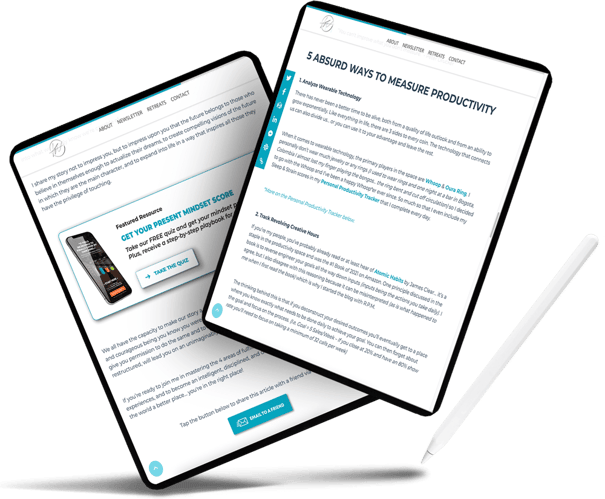 JOIN MY NEWSLETTER
Launched in January 2023, Inputs Only focuses on the intersection of systems, psychology & technology... helping you optimize what you can control.
For Entrepreneurs looking to accelerate their personal development and learn how to unlock new levels of health, wealth and personal fulfillment.
*No Spam. Always Free. Delivered Every Saturday